About the authors

Olivier Terrien is an electronics systems engineer in the Defense field, and member of the "Association Française de Guerre Electronique", the French chapter of the international Association of Old Crows (AOC). He is an auditor at the Institut des Hautes Etudes de Défense Nationale (IHEDN), passionate about history and seeking to raise awareness among a broad public about today's omnipresent electronics.
Jérôme Muguet is an advertising designer, transforming ideas into illustrations and animations. On the strength of his initial training as an architect, he likes to make complexity simple.
Summary of the project
​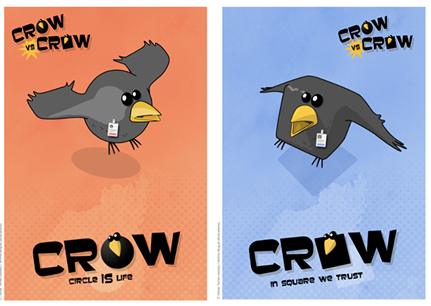 Electronics has been playing a role in our daily lives for more than 100 years. Discreet, but it has become omnipresent. It is a new technical environment in which Man expresses his desire to dominate, and therefore his need for protection. The eternal struggle between sword and shield is perpetuated.

Two crows reproduce this endless struggle and attempt to surpass each other. This illustrated book gives the reader a fun way to discover a confrontation that is now taking place in the electromagnetic spectrum. An original approach that gives a new lease of life to the 36 stratagems used for centuries.
Extracts to download
​
Seventy years ago, an Allied crusade landed on the beaches of Normandy to begin the liberation of Europe from the powers of darkness. Today, Guerrelec, the French Chapter of the U.S.-based Association of Old Crows (AOC), is a part of a 50-year old crusade to ensure that a shining light is brought to electronic warfare and more broadly, spectrum warfare, in our nations' national security concepts, doctrine, tactics, and technology. Many AOC chapters are located in the same nations whose brave military bore such heavy sacrifices on the beaches of France in 1944.
Partner